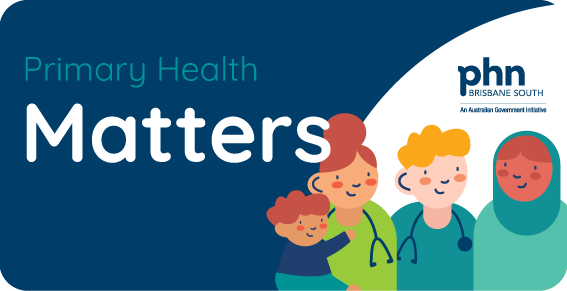 Welcome to Brisbane South PHN's weekly newsletter for primary health care providers. If you would like to get in contact with us, please email support@bsphn.org.au
Happy reading!


IMPORTANT: The official guidance underpinning the health advice in this publication is rapidly evolving; in some rare instances information may be already out of date at the time of publication. Please always check links provided for the latest information.
This week at Brisbane South PHN, we are:
working on our primary care winter preparedness and wellbeing activities

developing a winter preparedness campaign focussed on general practice and pharmacy to encourage vaccination

providing ongoing COVID-19 clinical updates

working with Queensland Health and Healthdirect Australia (HDA) on the implementation of the

'opt-in' COVID-19 model of care and technical solutions to secure messaging end points between HDA and general practice

reviewing our COVID-19 web portal to provide consistent information across Queensland's primary health networks.

Advice on use of sedation for COVID-19 vaccination
The Australian Technical Advisory Group on Immunisation (ATAGI) has provided advice as part of their ongoing review of current and emerging evidence on the use of sedation as one of the range of measures to assist in the safe administration of COVID-19 vaccines.
Clinical guidance on COVID-19 vaccine administration errors
ATAGI has provided advice on the management of a range of possible vaccine administration errors, including when a replacement (repeat) dose is recommended. This advice includes winter booster doses.
COVID-19 winter vaccine program rollout in residential aged care facilities

The Australian Government Department of Health has released an update for residential aged care facilities (RACF) on the COVID-19 winter dose vaccination program.
Key updates include:
primary care providers are the key channel for delivery of the COVID-19 winter vaccine program in RACFs

RACFs eligible for the Commonwealth vaccination program are being allocated a Commonwealth vaccine provider

availability of a COVID-19 Winter Dose Information Kit, for all residential aged care providers, facility managers and infection prevention and control leads, to support the COVID-19 winter dose vaccination program for residents and eligible workers

workers who meet ATAGI's criteria of a vulnerable individual should be supported to receive a winter dose from 4 months after their booster dose.

A Ramadan message from our Chief Health Officer
Home visits for people affected by COVID-19
Brisbane South PHN has commissioned local in-home care providers to deliver in-home face-to-face care for people with COVID‑19 and household members quarantining with them. Care may include, but is not limited to:
acute wound management

injury treatment

chronic disease management.

Information for clinicians on how to request an in-home visit can be found on SpotOnHealth HealthPathways.

For access to SpotOnHealth HealthPathways, health care workers working in the greater Brisbane south region can contact support@bsphn.org.au, call 07 3156 4346 (Monday to Friday) or request access online.

Queensland PHNs webinar: An approach to end-of-life care from the consumer and clinician's perspective, Tuesday 26 April, 6.30 pm to 8.00 pm
General Practitioners (GPs) and general practice staff are invited to attend an upcoming webinar organised by Queensland's primary health networks (PHNs). The webinar will review a case study discussing the approach to end-of-life-care for our patients and their families during the COVID-19 pandemic.

Facilitated by Helen Mees, Health Consumer, this panel discussion will cover:

a systematic approach to end-of-life-care

being proactive: advance care planning and clinical care planning

HealthPathways to support end-of-life care in your community.


Panellists:

Dr Geoff Mitchell, Partner and GP, Limestone Medical Centre Ipswich, and Emeritus Professor, School of Medicine, University of Queensland.

Dr Leyton Miller, Palliative Care and Advance Care Planning Registrar, Metro South Health

Prof Liz Reymond

MBBS (Hons), PhD, FRACGP, FAChPM

, Director, Brisbane South Palliative Care Collaborative, Director, Statewide Office of Advance Care Planning, and Deputy Director, Metro South Palliative Care Service.

Missed a COVID-19 Update for GPs webinar?
Queensland's PHNs host fortnightly webinars, providing updates on the current COVID-19 situation in Queensland. If you have missed a webinar, you can still watch the recording.
Elder Abuse Helpline information
Domestic and family violence can occur among people of all ages, including older couples. In relationships where an older person is experiencing violence and abuse from their partner, it is usually a continuation of a pattern of violence that has persisted for years, perhaps even decades.

Domestic and family violence is often a hidden problem for older people. Sometimes, they don't recognise that abuse by their partner is domestic and family violence, especially if the abuse has become normalised and accepted as part of the relationship over a long time.

It may also be difficult for older people to seek help if they are:

Health professionals are in an important position to help identify elder abuse, and to support patients who may be experiencing it. The Elder Abuse Helpline, a Queensland Government initiative, provides information, support and referrals for anyone experiencing abuse or witnessing the abuse of an older person. Call the helpline on 1300 651 192.


Safe communication in health care
Effective communication is critical when managing health care for patients. Effective communication assists with meeting patient needs, and providing safe, high-quality, and patient-centred care. Strong team communication can also influence the quality of working relationships and job satisfaction.
The Safe Communication in Health Care online course provides easily accessible training for primary care health professionals and staff, strengthening communication with patients and amongst team members.
The course covers 10 communication topics to upskill participants in safe and effective communication. Each topic includes a short, informative video and an online module that builds on the knowledge gained from the video.
Access the online course on Discover PHN or register for Discover PHN.
StandBy; support after suicide for anyone, anytime
StandBy assists families, friends, frontline responders and/or witnesses who have been exposed to, or bereaved by, suicide. StandBy is accessible 24 hours a day, 7 days a week and provides free face-to-face and telephone support. The program offers coordinated, evidence-based support and resources that are individualised for each person's unique circumstance, and is available for up to 2 years.
A recent independent evaluation of the program found that StandBy's support after suicide service helps to significantly lower the risk of suicidality, mental health concerns and social isolation following a loss of a loved one. StandBy is also the first suicide prevention program in Australia to be fully accredited against the Suicide Prevention Australia Standards for Quality Improvement, 1st Edition.
Access StandBy by calling 1300 727 247 or visiting their website.
Workforce development and training


Plan, Do, Study, Act – recording ethnic status of patients
Is your practice looking to increase the recording of ethnicity status for patients? Patient ethnicity is important data to capture, as it allows optimal patient-centred care to be developed, and improves the quality of patient records.

Brisbane South PHN has developed a series of plan, do, study, act (PDSA) examples to focus practices on their intent for improvement. Questions include:
What are we trying to accomplish?

How will we know that change is an improvement?

What changes can we make that will result in improvement?

These questions can then be used to inform the 4-step PDSA cycle.
Plan – plan the test or observation, including a plan for collecting data.

Do – try out the test on a small scale.

Study – set aside time to analyse the data and study the results.

Act – based on your analysis, adopt, adapt or abandon your idea.
Download the PDSA from DiscoverPHN. Register for DiscoverPHN.
Online webinars for accreditation support in general practice
Do you need more information and support with accreditation?

Australian General Practice Accreditation Limited (AGPAL) and Brisbane South PHN are providing general practices with the opportunity to participate in 1-hour free online webinars, focussing on different aspects of the accreditation cycle. There are 4 webinars in this series.

Webinar dates and registration links can be found below.

For more information email support@bsphn.org.au
Measles – SpotOnHealth HealthPathways
Under special circumstances such as travel or measles contact, children may be given a dose of MMR as early as 6 months of age. This is then repeated at 12 months of age, as per the National Immunisation Program Schedule.
Find out more about measles on SpotOnHealth HealthPathways.


What it's like to implement the Recognise Respond Refer program?
Since 2006, Patrice Cafferky, nurse, midwife and Brisbane South PHN board member,
has owned and managed a private practice with her husband, who is the principal GP.

'We observed first-hand the growing need for pathways to safety and health for patients experiencing domestic violence. There was a sense of powerlessness in our practice in treating Domestic and Family Violence (DFV) because the very nature of DFV is contrary to everything GPs are trained to do, which is to diagnose and treat.' Mrs Cafferky explains.

The Recognise, Respond, Refer (RRR) training instilled confidence in all the staff at my general practice to recognise signs of abuse and violence and respond appropriately. The Local Link service is our link between GPs and specialist services.

Mrs Cafferky believes the success of the RRR program in Brisbane south made for a strong case nationally, with further funding to expand the program in all states and territories announced in the recent Federal Budget.

'PHNs are well placed to integrate the primary health care system and social services. Providing the necessary funding and entrusting the rollout of DFV programs like RRR to PHNs facilitates the inter-system cooperation so desperately required to meet the challenges of DFV.'

We acknowledge the Traditional Custodians of the land on which we work, and of the many different nations across the wider Brisbane south region. We pay our respects to the Elders, past, present and emerging, as the holders of the memories, the traditions, the culture and the spiritual wellbeing of the Aboriginal and Torres Strait Islander peoples across the nation. We acknowledge any Sorry Business that may be affecting the communities as a whole. In the spirit of reconciliation, partnership and mutual respect, we will continue to work together with Aboriginal and Torres Strait Islander peoples to shape a health system which responds to the needs and aspirations of the community.
This information is accurate as of the publication date listed. All information and content in this newsletter is produced in good faith by Brisbane South PHN and is based on sources believed to be reliable and accurate at the time of development. Whilst every effort has been made to ensure information and content is up to date and accurate, viewers/readers should not rely on the data cited but treat it as indicative only. Brisbane South PHN does not accept any responsibility or liability for any loss or damage as a result of any errors, inaccuracies, incompleteness or any discrepancies in the data, nor does Brisbane South PHN guarantee or make any representations in the data.
While the Australian Government has contributed funding for this material, it has not reviewed the content and is not responsible for any injury, loss or damage however arising from the use of, or reliance on, the information provided herein.